About Us
Dr. Sandra Soucheray, CHPV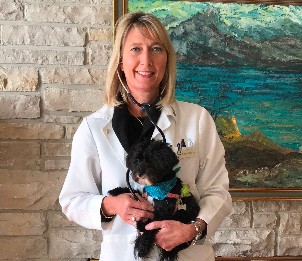 Dr. Soucheray is the owner of Dr. Soucheray's at Home Veterinary Care. Dr. Soucheray has always had a love of animals and the desire to help them with their owners. She gets her love of warm weather from being born in Charleston, SC where her dad was a medical officer on a nuclear submarine. Sandra grew up here in the northern suburbs. She had a degree in Art History from St. Thomas University and considers herself a renaissance lady. Veterinary medicine is really where her heart is and she graduated from the University of Minnesota's College of Veterinary Medicine in 2002.

After graduation she worked in general family practice full time. She has also worked in some of the premiere hospitals in the twin cities providing relief work for veterinarians while they were on maternity or sick leave. She was also the onsite veterinarian, teaching anesthesia and surgery to veterinary technical students. She was recently at a very busy, fast paced veterinary hospital, and after seeing dozens of patients a day, she started to get the yearning to spend more time with each patient in their own environment while still offering the highest quality care in her own community. It seems she may have been destined for this role since in veterinary school she received the Rupert Memorial Scholarship. this award is chosen by the veterinary school clinicians and her peers to be awarded to the student who shows a "special sensitivity to the care of older dogs" - this is a perfect fit since a mobile practice lends itself well to geriatric care. Dr. Soucheray worked for a mobile veterinarian prior to starting veterinary school and witnessed what a wonderful service at home care is for pets and their caregivers.

Dr. Soucheray and her family have two wonderful rescued yellow Labradors named Chloe and Tina. Chloe is twelve years old and loves to spend her days in the lake fishing or lounging in the shade. Tina is nine years old and enjoys swimming and watching for visitors. When Dr. Soucheray is not driving around taking care of the great animals in the neighborhood, she loves to spend time on the lake occasionally water skiing. When time allows, she also enjoys spending time in the kitchen cooking up a great gourmet meal.
Theresa M., CVT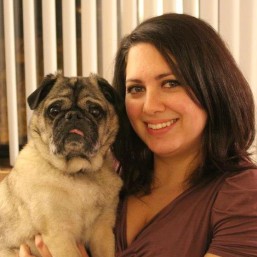 Theresa is the full time Certified Veterinary Technician and Practice Manager at Dr. Soucheray's at Home Veterinary Care. She has a Bachelor of Science in Animal Science from the University of Minnesota Twin Cities. In 2017 Theresa graduated from Penn Foster and passed her Veterinary Technician National Exam. She has been in the veterinary field for 12 years. During that time, she met Dr. Soucheray while working at a pet hospital. Theresa has been helping Dr. Soucheray do home veterinary care since 2016. She is excited to continue developing her hospice and palliative care skills through experience and becoming certified. Theresa has a special place in her heart for pets with special medical needs. She has three pets of her own Reggie, Sage, and Jasper. Reggie is a 14.5 year old Pug with multiple health issues including a progressive spinal myelopathy. Theresa enjoys bringing Reggie to acupuncture weekly and finding new and creative ways to keep him happy and relaxed. Sage is a 5 year old black Domestic Short Hair cat. Theresa adopted her as a young kitten after some rare surgical complications left her with only one kidney. Even today Sage is tiny at around 6lbs. Jasper is the newest addition to the family and is a 1.5 year old black Labrador. He was adopted from a local service dog training program when he could no longer complete training due to elbow dysplasia. Theresa adopted Jasper and had his elbow surgery done. While he is comfortable now, Theresa knows Jasper has the potential for needing special care for mobility and discomfort as he ages.
Theresa likes to stay busy in her free time. Often this means obtaining new certifications or continuing education. She is Fear Free Certified and is working on becoming certified in Animal Hospice and Palliative Care. Theresa does relief work at a pet hospital and also pet sitting during her free time. When Theresa and her spouse aren't working or taking care of their own pets, they greatly enjoy traveling. They love going anywhere that is by water and can often be found in California. Theresa's family is Italian and she has always had a dream of traveling to Italy. This dream came true in 2017 and Theresa cannot wait to go back again. Theresa also loves cooking and gardening. Every summer she grows enough tomatoes to make homemade pasta sauce that lasts until the next season.
Our Hours
Please call 952-818-2273 (CARE) or email Dr.Soucheray@gmail.com for additional information or an appointment.
Depending on availability, appointments may be scheduled outside of normal business hours at request.

Monday-Friday: 8:00 AM to 5:00 PM
Saturday-Sunday: Contact for availability