About Us
Dr. Sandra Soucheray, CHPV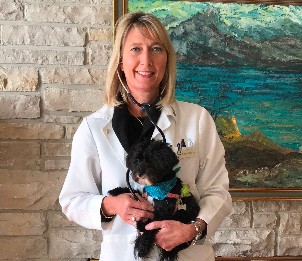 Dr. Soucheray is the owner of Dr. Soucheray's at Home Veterinary Care. Dr. Soucheray has always had a love of animals and the desire to help them with their owners. She gets her love of warm weather from being born in Charleston, SC where her dad was a medical officer on a nuclear submarine. Sandra grew up here in the northern suburbs. She had a degree in Art History from St. Thomas University and considers herself a renaissance lady. Veterinary medicine is really where her heart is and she graduated from the University of Minnesota's College of Veterinary Medicine in 2002.

After graduation she worked in general family practice full time. She has also worked in some of the premiere hospitals in the twin cities providing relief work for veterinarians while they were on maternity or sick leave. She was also the onsite veterinarian, teaching anesthesia and surgery to veterinary technical students. She was recently at a very busy, fast paced veterinary hospital, and after seeing dozens of patients a day, she started to get the yearning to spend more time with each patient in their own environment while still offering the highest quality care in her own community. It seems she may have been destined for this role since in veterinary school she received the Rupert Memorial Scholarship. this award is chosen by the veterinary school clinicians and her peers to be awarded to the student who shows a "special sensitivity to the care of older dogs" - this is a perfect fit since a mobile practice lends itself well to geriatric care. Dr. Soucheray worked for a mobile veterinarian prior to starting veterinary school and witnessed what a wonderful service at home care is for pets and their caregivers. Dr. Soucheray is also Fear Free Certified.
In 2017, Dr. Soucheray became one of the very first veterinarians to become certified in Animal Hospice and Palliative Care through the International Association of Animal Hospice and Palliative Care (IAAHPC). Dr. Soucheray has a true passion for providing hospice, palliative, and end of life care for pets in the comfort of their own homes.

Dr. Soucheray and her family have two wonderful rescued yellow Labradors named Chloe and Tina. Chloe is thirteen years old and loves to spend her days in the lake fishing or lounging in the shade. Tina is eleven years old and enjoys swimming and watching for visitors. When Dr. Soucheray is not driving around taking care of the great animals in the neighborhood, she loves to spend time on the lake occasionally water skiing. When time allows, she also enjoys spending time in the kitchen cooking up a great gourmet meal.
Theresa M., CVT, CHPT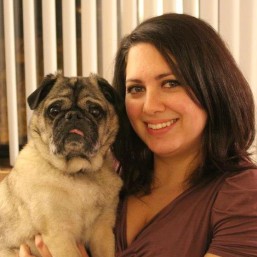 Theresa is the full time Certified Veterinary Technician and Practice Manager at Dr. Soucheray's at Home Veterinary Care. She has a Bachelor of Science in Animal Science from the University of Minnesota Twin Cities. In 2017 Theresa graduated from Penn Foster and passed her Veterinary Technician National Exam. She has been in the veterinary field for 13 years. During that time, she met Dr. Soucheray while working at a pet hospital. Theresa has been helping Dr. Soucheray do home veterinary care since 2016. Theresa has a special place in her heart for pets with special medical needs. In 2019, Theresa obtained her certification in Animal Hospice and Palliative Care through the IAAHPC. She completed the same program that Dr. Soucheray completed in 2017. As of 2020, Theresa is one of only fourteen veterinary technicians certified in Animal Hospice and Palliative Care globally. Theresa is also Fear Free Certified.
Unknowingly, Theresa was first introduced to the world of animal hospice and palliative care through caring for her pug, Reggie. He is the squishy faced guy you might see admist our website and brochures. Reggie has since passed away, but he is the reason Theresa is able to so deeply connect with families and their pets during the what is usually considered the toughest part of pet ownership. Currently Theresa has a 3 year old Labrador Retriever and 6 year old Domestic Short Hair. Both pets have their own unique medical needs and are the perfect fit for being a part of Theresa's family.
Theresa likes to stay busy in her free time. Theresa does relief work at a busy pet hospital, pet sits during her free time, and enjoys doing extra training with her labrador. When Theresa and her spouse aren't working or taking care of their own pets, they greatly enjoy traveling. Theresa also has a passion for gardening and using home-grown produce in cooking and baking.
Our Hours
Please call 952-818-2273 (CARE) or email Dr.Soucheray@gmail.com for additional information or an appointment.
Depending on availability, appointments may be scheduled outside of normal business hours at request.

Monday-Friday: 8:00 AM to 5:00 PM
Saturday-Sunday: Contact for availability