Our Blog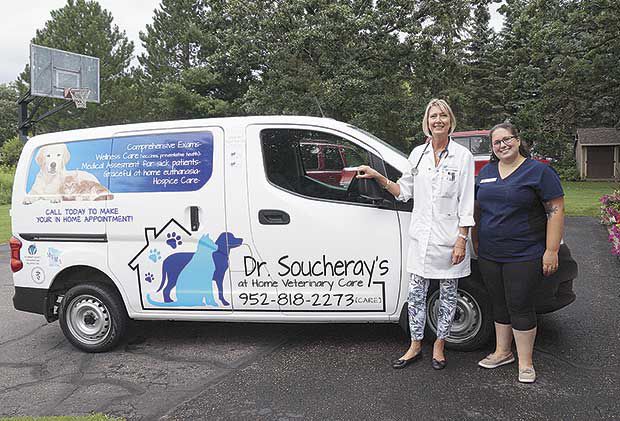 2018-11-27
Recently, Dr. Soucheray's at Home Veterinary Care was featured in a local circulating newspaper. The article can be found online at Mobile vet makes pets feel at home- fur real!
"
Molly the yellow Lab, of North Oaks, sat as still as she could while veterinarian Dr. Sandra Soucheray, of Shoreview, examined her ears.
"It's a little red in there," Soucheray noted as Molly sat comfortably on the floor in her own home.
Molly received a one-time ear infection treatment that is new to the market. "I call it the magic pill," said her owner, Bruce Carlson, who has seen the treatment be successful before.
Soucheray and her vet technician, Theresa Miniscalco, also gave Molly, Georgie and their brother Cooper the poodle vaccines and drew blood to check for heartworm. They also had a general checkup. Cooper, 13, is aging and has been experiencing anxiety, perhaps due to his vision being affected in dim light. There's a treatment for that, Soucheray said. She didn't recommend medication right away, but instead recommended a pheromone collar or thunder jacket.
"It's like a baby being swaddled," Soucheray said, who has been seeing Cooper since he was a baby. She has cared for the Carlsons' pets since she worked at a brick-and-mortar clinic.
Carlson said having a mobile vet is much more convenient and saves time. "One hour, three dogs " try to do that and go to the vet and come home," Carlson said as Soucheray and Miniscalco wrapped up their work. The veterinarian will even visit his pets at his office in the North Oaks strip mall if needed, he added.
Soucheray has been driving across the Twin Cities to take care of dogs and cats at home for
three years now. She worked in a clinic for 13 years before launching her own mobile practice, Dr. Soucheray's At Home Veterinary Care. She keeps all her equipment in her van and provides care in the pet's home. No exam table is needed; pets respond better to treatment in their natural environment " the floor or even their pet bed.
She became familiar with mobile vet service while working for one in Minneapolis before she attended veterinarian school. She thought the service helped pets be more comfortable and after working as a veterinarian in both clinic and home settings, she can attest to it.
"A lot of pets don't like traveling in cars," she noted. Hospitals and clinics also have odd smells, weird noises and pets have the potential to catch illnesses from sick animals.
A cat belonging to one of her clients hadn't been to a vet for years before seeing Soucheray because it was so difficult to take the animal to the clinic. The mobile vet and technician were able to easily relieve the cat of urinary issues caused by severe hair matting, Miniscalco said. They don't judge if an animal hasn't been to the vet " they are just there to offer help.
Being inside homes also gives the duo opportunities to see how changing the animal's environment could help it manage a behavioral issue or illness, such as osteoarthritis. Soucheray's mobile service includes vaccines, evaluations, blood work, treatment for many illnesses, behavior and nutrition control, and hospice and palliative care. She refers clients to a nearby hospital she recommends for surgeries.
Being a veterinarian requires not only animal skills and medical knowledge but people skills, too, since pets can't tell vets about their symptoms.
"It's a little bit like being a pediatrician," Soucheray noted.
One of her specialties is in-home euthanasia. Working at a clinic, she always tried to give families as much time and space as they needed, but with her own mobile practice she is now able to offer families a more personal experience. For example, families can have their pet sedated in their favorite place outside while the family says goodbye.
This year, Soucheray was among one of 62 veterinarians around the world who were the first to be certified in hospice and palliative care by the International Animal Association of Hospice and Palliative Care. The certification included courses, papers, a conference and an exam.
Soucheray graduated from the University of Minnesota College of Veterinary Medicine in 2002. She received her bachelor's degree in art and history and worked for the Minnesota Timberwolves as an administrative assistant in the sales and marketing department before deciding to go to veterinarian school. She had to take three years of undergraduate science classes before attending veterinarian school. She's also the owner of two yellow Labs.
Miniscalco always knew she wanted to work with animals. She received a bachelor's degree in animal science and went on to receive a veterinarian technician degree. She has worked in the industry for 12 years. She and Soucheray worked together at a clinic previously. She's like a nurse " she gives injections, draws blood and manages bookkeeping. She has a cat, a pug and a black Lab.
Soucheray's prices are comparable to a clinic, slightly more in some cases. An additional $100 house call fee includes up to four pets. She also has an online pharmacy and supply store where owners can purchase prescribed items. For more information, visit drsoucheray.com."